I'm not an enormous drinker. I was one of those square kids in high school who was practically afraid of alcohol. Even in college, I didn't do much "real" drinking until nearly my senior year and I've probably only been properly drunk two or three times in all of my (not quite there yet!) thirty-five years.
I do enjoy the occasional drink though, and when I do opt to indulge, it's almost always a can of Groennfell mead I'll reach for.
Originating in Colchester, VT and presently based in St. Albans, Groennfell Meadery have spent close to a decade building themselves up as a name to watch in a market jam-packed with craft breweries. In addition to hosting "feasts" and array of other events, they're also a fixture of Vermont's geek community. From Renaissance fairs to comic-cons and more, Groennfell and its craft meads have had a presence at many of them over the years.
Despite being busy with the announcement of their latest new mead, Groennfell Meadery's own Ricky the Meadmaker was kind enough to answer a few questions about mead, their business, and their plans for the future!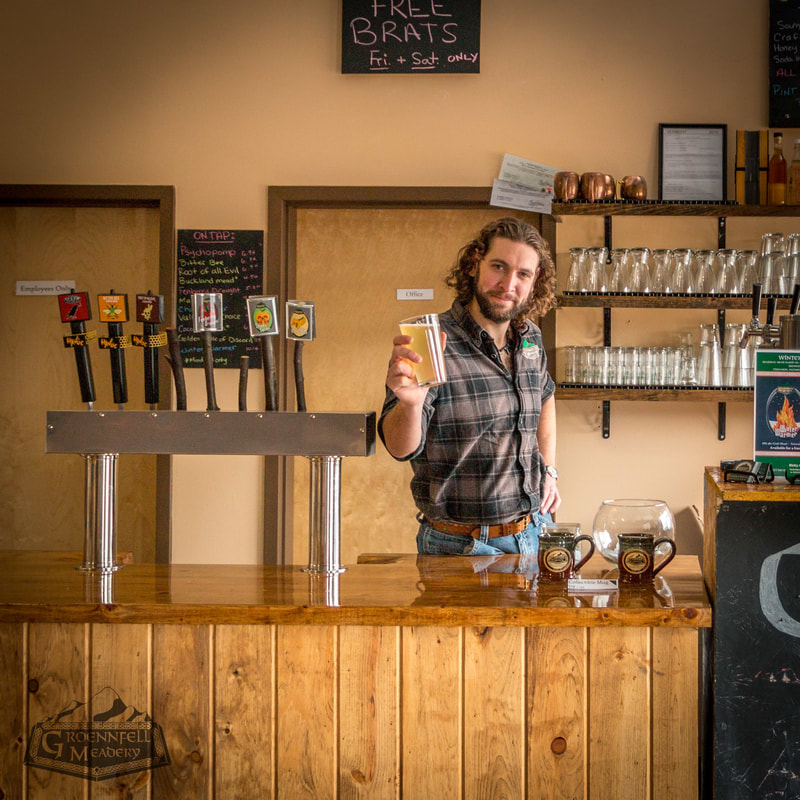 Stew Shearer: Talk to me about the origins of Groennfell Meadery! When did the company start, what inspired it, and what did the early days look like?
Ricky the Mead Maker: Groennfell Meadery was founded in 2013 by Kelly and [myself]. We knew we wanted to start a business with community building as its focus and after going through a ton of business models, we settled on mead (more about that in a moment).
The early days were fraught with delayed equipment, a crowded craft market, and all sorts of other startup hiccups. As we loved to joke, "If owning a meadery were easy, everyone would have one!" That said, we wouldn't change those early days for the world. It's a huge part of what made us who we are today.
SS: Why mead?
Ricky: Great question! I guess because no one was really doing it on a large scale. You could walk into a random gas station and grab a six-pack of incredible beer or cider. Wine and sake had already carved out their niche, but the craft mead sector was… well, not a sector at all. If there's ever a book written about the company, it will probably be Called Craft Mead: The Beverage No One Was Asking For.
More than just having a wide-open market (which was both a blessing and a curse), even a decade ago it already felt like most of the innovation in the craft beer space was behind us, but craft mead was a blank page.
SS: How does brewing mead with modern equipment compare to how it might have been done historically?
Ricky: I like to joke that the biggest difference is that we don't have angry bee parts on our cans, but we do have bubbles! Carbonation technology is the biggest difference, but most of our brew team has made mead in smaller quantities essentially the same way it was brewed 1,200 years ago and gotten great results.
SS: What have been your most popular mead flavors?
Ricky: Valkyrie's Choice, our straight mead - only honey, water, and yeast in the fermentation - has been a longtime fan favorite, but everything we've made has had its day. Another really popular mead is Buckland which is available all summer and it's brewed with honey, lemon, and green rooibos tea.
SS: Where does Groenfell go to for its ingredients?
Ricky: All over! We need pretty big quantities of all of our ingredients, so our options are a little limited, but to be honest, we've been known to run out to Costco from time to time.
SS: Talk to me about the process of creating a brand-new flavor of mead? How much work goes into a new concept? Are there any ideas you guys have tried that didn't make it to market?
Ricky: About 95% of our meads come from a bunch of us sitting around shooting the breeze, someone coming up with an idea that sounds doable, then seeing if we can get the ingredients at a reasonable price. If we can get the ingredients, we brew it. I wish I could say that it was more complicated than that, but that's pretty much it.

The extension of that means that we have had literally hundreds of ideas (some good, some terrible) that never make it to market for one reason or another.
SS: How have things been for Groennfell throughout the pandemic? What difficulties have you guys faced?
Ricky: We were very lucky to be based in Vermont during the pandemic where COVID rates, for the beginning months, were much lower than in other areas of the country. We also have a smaller staff and a large production area, so we were able to pod really effectively and make little teams to complete most of our tasks.

The hardest thing for us is that as a company focused on feasting [and community events], we couldn't promote or support the kinds of gatherings that mean so much to us. Jess, our Director of Marketing, did an amazing job moving a lot of that community feel online, but it simply isn't the same as gathering and feasting in the open air.
SS: When you visit the Groennfell Meadery Facebook group you see a lot of crossover between your customers and hobbies that have been considered, traditionally, to be more "nerdy." Why do you think there's a connection between something like Vermont-made craft mead and tabletop RPGs?
Ricky: I think there are a couple reasons for that. First is that mead shows up in a lot of nerd culture from sci-fi to fantasy to death metal. This means that people who are into those things are more likely to have heard about mead than the general populace.

Also, we're pretty big nerds ourselves and as a woman and queer-owned company, we have been able to create a space for people who have not only been marginalized by mainstream culture, but might not even feel welcome in "nerdy" or fringe cultures.
SS: Do you feel like you'll be able to re-open any of those "feasting" events in the future? Assuming the pandemic continues its trend of (fingers crossed) decline?
Ricky: Yes! We are closely monitoring daily numbers and percent positive rate on COVID and once it comes in line with our internal guidance, we'll start planning feasts again! We can hardly wait!